Sell Vinyl Records, We Buy Vinyl Records
DJ Records has been buying LPs, 45s, 78s & 12″ singles for over 20 YEARS.
No collection is too large! We make house calls anywhere in the United States.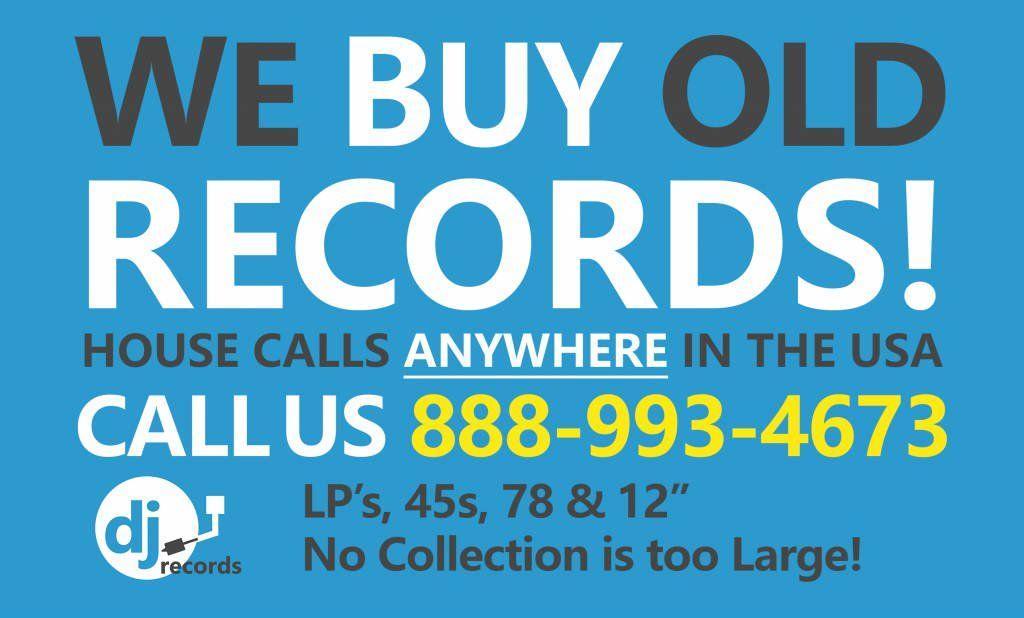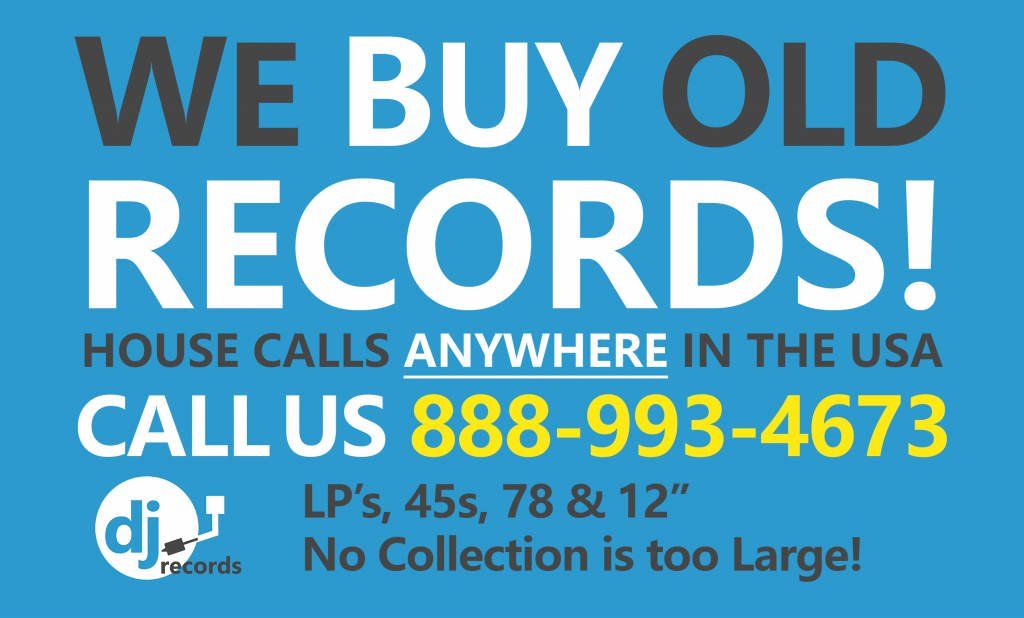 What styles of music do we buy?
We specialize in Soul, R&B, Jazz, Blues, Rock, Gospel, Disco, Hip-Hop, Reggae, Latin, and Classical music — but this is just a partial list.
I'm not sure if I have LPs or 45s . . . or maybe they're 78s?
LPs: "LP" stands for Long Playing. These are also often called "albums" or "33s," since they play at 33 revolutions per minute. LPs are typically 12 inches in diameter with a small spindle hole in the center, have a number of songs on each side, and usually come inside cardboard covers with artwork/pictures.
45s: 45s feature one song on each side and, at just 7 inches in diameter, are much smaller than LPs. They have a large hole in the middle and usually were originally sold with just a plain paper sleeve.
12-inch singles: 12″ singles are the same size as LPs, but have only one song on each side. These were made for DJ's and often came in plain or generic sleeves.
78s: At 10 inches in diameter, 78s are not quite as small as 45s but not quite as large as LPs. They feature one song on each side and were made of shellac as opposed to vinyl. They were originally packaged in plain or generic paper sleeves and are quite fragile.
Do my records have to be in covers?
LPs have to be in their original covers for us to consider buying them, but we will look at 45s and 78s even if they are unsleeved.
Price can vary widely and is generally determined by three factors: artist, title and condition. After asking you a few questions about your collection, we may be able to give you a general range but the final determination is always made by our buyers after personally inspecting your collection. Give us a call today to set up an appointment
Why Sell Your Vinyl to DJ Records USA?
With over 20 years in the business of buying used vinyl records, DJ Records USA has built a solid reputation of integrity and fairness. Our best advertising has always been word of mouth from satisfied customers, as evidenced by our A+ rating with the Better Business Bureau.
WE BUY OLD RECORDS!
We've been buying LPs, 45s, 78s & 12″ singles for well OVER 20 YEARS.
No collection is too large!
John arrived as expected. Very friendly, knowledgeable. Scanned our collection and very honest.
Bonita Hardwick
2022-04-12
The staff at DJ Records were courteous and timely. Scott kept me abreast of the timetable for the Buyer's (John) arrival. John arrived right on time and examined not only my LPs , but also examined my collection of 45s. (for which I had not prepared) He went through every record that I owned and chose those which he wanted to purchase. I received a reasonable price for the LPs and 45s. I would readily do business with DJ Records again.
Casandra Alomar
2022-02-04
I was very appreciative of Jeremy's professionalism and understanding of my connection to my collection of vinyls which has been with me for a number years. I was trusting of DjRecords' handling of my collection because of Jeremy. He made my parting with them easier than I expected.
Superb professionals all around. Scott handled all the arrangements and Jeremy handled the purchase of my records. Personable, respectful, honest, and fair. Overall an exceptional service by any standards, but especially by the standards of today's world. They are as good as merchants of the 50s and 60s--those who treated customers as they, themselves, would wish to be treated by a vendor. A GREAT, GREAT COMPANY. Thank Scott, and thanks Jeremy!
DJ Records stayed in touch with me through the pandemic and waited until I was ready to let people come into my house. When they did, they were all busines: assessed my LP collection, made what I thought was a very fair offer, paid cash on the barrelhead, and took everything away. Bada bing bada boom. Bought my turntable too! Very efficient and professional, highly recommended if you are looking to offload all or part of your LPs.
Donna LaBruyere
2021-07-20
What a great experience! Ron came and offered us much knowledge about records and was kind and honest concerning our collection. He left leaving us with a good feeling and our finances improved. If you want an honest company to help you sell your collectibles you will find it with DJ Records.
Wentworth Eccles
2021-03-19
Nice exchange on Saturday, March 13, 2021. Christian was organized and very professional in representing the Company when both sides negotiated a fair price for the albums he purchased. He was pleasant and shared his knowledge about music and in turn was open to learning some new information from us. Glad to do business with you and continued success to everyone connected with djrecordsusa.